Coed Tŷ Canol National Nature Reserve, near Newport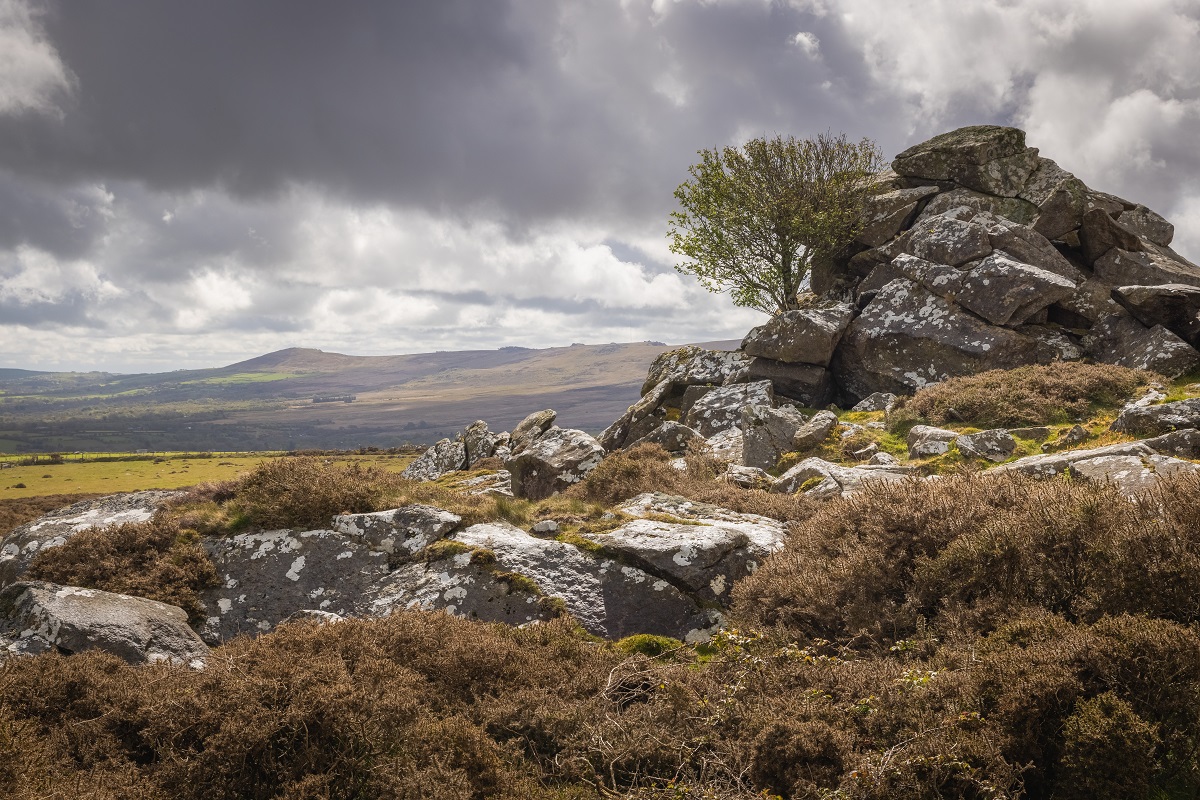 Welcome
The landscape at Coed Tŷ Canol National Nature Reserve features gnarled and twisted oaks, rock outcrops, old stone walls and an Iron Age fort.
Woodland cover has ebbed and flowed here since the Ice Age and the woodland was already old when the Pentre Ifan stone burial chamber was built nearby 5500 years ago.
The woodland is a mixture of ancient oak woodland and wood pasture which has been grazed by cattle, sheep and ponies for many centuries.
It is one of the richest sites for lichens anywhere in Britain and Ireland – these adorn the boulders and trees and are the main reason for the woodland's status as a National Nature Reserve.
Follow our walking trail through the reserve to see the ancient woodland's oak trees and the mystical landscape, and enjoy the display of bluebells in spring.
Walking trail
The walking trail is waymarked from start to finish.
Look out for the information panel at the start of the trail.
Find out about walking trail grades.
Tŷ Canol Walk
Grade: Moderate
Distance: 2.9 miles/4.7 kilometres
Time: 1½ hours
Get a real feel for Coed Tŷ Canol on our walk through this enchanting reserve.
See the ancient oak trees and the rocky outcrops of Carnedd Meibion Owen, and enjoy the panoramic views of Pembrokeshire.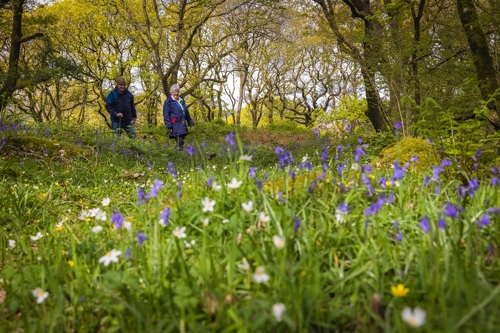 Other walking routes
There are public footpaths to Coed Tŷ Canol from the nearby Urdd Gobaith Cymru Centre.
You can also walk to the Pentre Ifan burial chamber from the reserve.
What to see at the National Nature Reserve
Woodland
The steeply sloping woodland at Coed Tŷ Canol seems like a typical Welsh upland oakwood, where sessile oak is the dominant tree with scattered birch, mountain ash and hazel. But this woodland has a long history of agricultural grazing – resulting in a more open type of woodland called wood pasture.
The northern and lowest part of the reserve, Hagr y Coed ('hagr' means 'ugly' in Welsh), is wet woodland, with numerous small spring-fed streams and some long abandoned fields within it. Oak is the main tree here with some ash and downy birch.
Lichens
If you walk through the reserve you will see that many of the surfaces of the rock faces, tree trunks and branches are covered in lichens.
Lichens need light and the growth of woodland plants which would usually shade them out has been kept in check here by the long history of grazing, allowing them to flourish.
Nowadays we continue to use grazing animals and remove selected oak trees to look after the lichens.
National Nature Reserves in Wales
There are over 70 National Nature Reserves in Wales.
National Nature Reserves are areas of the countryside where special examples of Britain's habitats and wildlife are protected.
Find out more about National Nature Reserves.
Visiting Coed Tŷ Canol​ safely
There are steep slopes and it can be slippery under foot in wet conditions.
Livestock graze parts of the reserve - do not approach or try to feed them.
Keep dogs under close control and please shut gates behind you.
Pembrokeshire Coast National Park
Coed Tŷ Canol National Nature Reserve is in the Pembrokeshire Coast National Park.
The Pembrokeshire Coast is Britain's only truly coastal National Park, covering 240 square miles of spectacular landscape around Wales's south-western shore.
It is looked after by the Pembrokeshire Coast National Park Authority.
For more information about visiting the National Park go to the Pembrokeshire Coast National Park website.
Closures and diversions
Sometimes we need to close or divert trails for your safety whilst we undertake maintenance work or other operations.
We may have to close a site in extreme weather, such as high winds or snow and ice, due to the risk of injury to visitors or staff.
Please always follow any instructions on site and any temporary diversion signs.
How to get here 
Location
Coed Tŷ Canol National Nature Reserve is 4.5 miles south east of Newport.
It is in the county of Pembrokeshire.
Ordnance Survey map
Coed Tŷ Canol National Nature Reserve is on Ordnance Survey (OS) Explorer map OL35.
The OS grid reference is SN 092 359.
Directions
From the A487 through Newport take the minor road signposted towards Cilgwyn.
After 2¼ miles, turn left at the T-junction towards Maenclochog.
After ½ mile, turn right at the T-junction.
After another ½ mile, turn left back on yourself, signposted Brynberian.
The informal parking area is on the right hand bend, just off the road.
Public transport
The nearest mainline railway station is Fishguard & Goodwick.
For details of public transport go to the Traveline Cymru website.
Parking
Parking is in a lay-by to the south of the reserve.
Car parking is free of charge.
Overnight parking is not permitted.
Contact details
There are no staff at this location.
Contact our customer team for general enquiries during office hours, Monday to Friday.
Related document downloads